Mike Davies
Full name: Michael Grenfell Davies
Nickname: Mike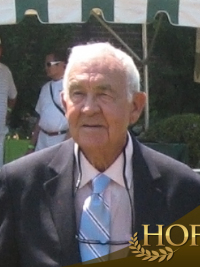 Born
Subscribe now

This information and data is not available because you are not our subscriber yet.
Please click here and get full access to the entire database!

Died
Class of HOF
Height
Weight
Plays
Bio
He was a Welsh professional tennis player, entrepreneur and administrator. He had a 60-year career in the tennis business, first as an amateur and professional tennis player, including a period as the number one ranked player in Great Britain and a member of the British Davis Cup team, then as an entrepreneur and one of the pioneers of the professional game.

He took up tennis at the age of 11, and was discovered by Fred Perry and Dan Maskell. He played on the British Davis Cup team with Bobby Wilson, Billy Knight and Roger Becker.

In 1952 Davies went to Australia for the first of three winter visits to work with Harry Hopman, the Australian Davis Cup Coach, and Australian players like Lew Hoad, Ken Rosewall, Roy Emerson, Fred Stolle. It was there that Davies developed his game.

From 1958 to 1960 Davies was ranked number 1 in Great Britain. He played on the Davis Cup team for Great Britain from 1956 to 1960 and had a 15/8 match record. In 1960 he reached the final of the Men's Doubles at Wimbledon with Bobby Wilson; the last time a British male reached the final of Wimbledon's Men's Singles or Men's Doubles until 2012.

After that doubles final, in 1960, he was invited to turn professional with Jack Kramer for a two-year guarantee of £4,500-a-year. He joined a select group of players considered to be the best in the world such as Pancho Gonzales, Tony Trabert, Lew Hoad, Ken Rosewall and Pancho Segura.

Since international tennis at this time was an amateur sport, Davies' professional status put him at odds with the ruling tennis body, the International Tennis Federation (ITF), and his membership of the All-England Club at Wimbledon was cancelled, and he became ineligible to ever play Davis Cup or any of the Grand Slams again. As well as playing he was elected to the board of the first Players' Association that was formed by this select group of approximately 12–15 players and found himself leading the charge to promote professional tennis and to fight for open tennis. Soon Davies found himself doubling up as the tour's spokesman and selling the upcoming events and taking the first steps towards a flourishing career in the promotion of tennis as a business. This first Players Association (IPTPA) was the forerunner of what is now the Association of Tennis Professionals (ATP), of which Davies was to become executive director in 1982.

In 1961 Davies published two books: one a teaching book, and the other a biography called Tennis Rebel (Stanley Paul, London).

Davies retired in 1967, one year before Wimbledon finally allowed professionals to play. However, he did come out of retirement to play in the first Open at Wimbledon. He had missed 28 Grand Slam events during the ban.

In recognition of his immense contributions to growing the sport worldwide, Mike Davies, who served as CEO of the New Haven Open at Yale presented by First Niagara, has been inducted to the International Tennis Hall of Fame in the Class of 2012. An influential, behind-the-scenes executive in the tennis world, Mike had a 40+ year career in tennis promotion and administration, with achievements ranging from forging the first, highly successful television/tennis contracts and negotiating major sponsorships to introducing the colored tennis ball to the game.

While the rich history of tennis dates back hundreds of years, the game as we know it today- world-class tournaments, compelling, professional players, and dynamic international telecasts - is really just over fifty years old. The elevation of pro tennis from its conservative, pre-Open Era days to the exciting, global sport we all enjoy today is a result of the vision and hard work of dedicated behind-the-scenes leaders, notably Mike Davies.

After a successful pre-Open Era playing career, Mike had 40+ year career in tennis promotion and administration officially began in 1968, when he became Executive Director of World Championship Tennis. It was a pivotal time in tennis, and Mike hit the ground running with new ideas to make professional tennis better for players, more enjoyable for fans, and financially viable. While leading the WCT, Mike was at the forefront of staging tournaments and selling sponsorships and television rights, thereby creating a platform for professional tennis to expand into large stadiums and major cities. In 1970, Mike launched the first multi-million dollar pro tour, which consisted of 20 tournaments throughout the world, and culminated in a final that aired on NBC– the very first network broadcast of tennis. The airing drew an extraordinary 20 million viewers, and interest in tennis surged. The telecast was just one of Mike's many innovations that are still in play today.

As a true trail-blazer for the sport of tennis, many aspects of the game are attributed to Mike. For example, when matches were running too long, Mike mandated a tie-breaker—the first time this was used on the professional circuit. Difficult to see the ball and the players on a telecast? Mike introduced yellow tennis balls and colored apparel. Pace of play too unpredictable? New rules of 30 seconds between points and 90 seconds between games were instituted. And when the networks made it difficult for companies to advertise, Mike sold Wilson on court branding rights – forging the way for growth in sports broadcasts and sponsorships.

In 1981, Mike moved on to serve as the Marketing Director and then Executive Director for the Association of Tennis Professionals (later known as the ATP). The ATP was almost bankrupt at the time, and when Mike left after three years they had more than $1 million in assets. He helped consolidate the players' pension plan and created more jobs for players with bigger draws, more tournaments and increased prize money.

In the late 1980's, Mike served as General Manager of the International Tennis Federation (ITF). He is widely credited with revitalizing the Davis Cup, and putting the event back on firm financial footing during his tenure with the ITF, ultimately increasing the future value of the Davis Cup and Fed Cup around the world.

Not just a mover and shaker behind the scenes, Mike was also an on-court star in his day. Originally from Swansea, Wales, Mike was Britain's No. 1 ranked player in 1957, 1959, and 1960 and he was a member of the British Davis Cup team. In 1960 he reached the men's doubles final at Wimbledon with Bobby Wilson, marking the last time a British male has been in the final of Wimbledon's men's singles or men's doubles.

For recognizing the immense potential tennis offered as a professional sport, along with the dedication and drive to make his visions a reality, we salute 2012 Hall of Famer Mike Davies, an influential contributor, effective innovator, and a man who has truly shaped the history of our sport.
Tournament
AO
RG
W
US
Win-Loss
Subscribe now

This information and data is not available because you are not our subscriber yet.
Please click here and get full access to the entire database!