Middleton Beaman
Full name: Middleton Goldsmith Beaman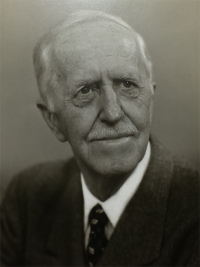 Born
September 25, 1877 in Rutland, Vermont, USA
Died
September 15, 1951 in Washington, District of Columbia, USA
Plays
unknown
Bio
He was the fourth child and the second son of George William Beaman and Rebecca Swift. His father, George William Beaman served as a correspondent in the Civil War, later he served as a rear admiral at the US Navy.
Middleton graduated from Harvard College in 1899 and at Harvard Law School in 1902. He was the interscholastic champion at Princeton in 1895.
In 1948, he received an honorary degree of doctor of laws from Columbia University.
He was laid to rest at the Rock Creek Cemetery in Washington, D.C.
Misc
Professional legislative drafting in the House of Representatives began in 1916 as an experiment offered to the House by the Legislative Drafting Research Fund at Columbia University. Under the Fund's auspices, Middleton Beaman, a Columbia law professor and a law librarian of the Library of Congress, obtained funding from Columbia University to provide a "demonstration" of the drafting services that he could offer. He acted as an aide to the House Ways and Means Committee and, in that role, drafted several pieces of legislation (revenue bills,tax legislation) over the next two year. The experiment was successful, he made a positive impression, and Congress decided to make his position permanent. The law creating the office originally imagined a single office serving both the House and Senate. The Legislative Drafting Service was created by section 1303 of the Revenue Act of 1918 and Beaman became the first Legislative Counsel of the House of Representatives. Speaking during the floor debate on the establishment of the Office, the Chairman of the Committee on Ways and Means described Beaman's services as "essential" and the Committee as being "indebted" to him for clarifying and simplifying the complex legislative provisions on which he worked. The Chairman emphasized that Beaman had always been "absolutely neutral" on policy matters.

His book, Bill Drafting was published in 1914.

He was described as a tense, caustic, redheaded Yankee, and as a Vermont schoolmarm.
| Tournament | AO | RG | W | US | Win-Loss |
| --- | --- | --- | --- | --- | --- |
| 1895 | A | A | A | R128 | 0-1 |
| Win-Loss | 0-0 | 0-0 | 0-0 | 0-1 | 0-1 |