Iwao Aoki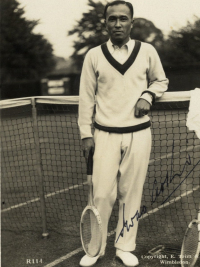 Born
Subscribe now

This information and data is not available because you are not our subscriber yet.
Please click here and get full access to the entire database!

Died
Plays
Bio
He was a Japanese tennis player, born in Hyogo Prefecture, Kobe City. He graduated from Keio University. From the 1920s to the early 1930s, he was one of the leading players in the Japanese men's tennis world, but died suddenly at the age of 37 due to intestinal obstruction. Among his major achievements there were winning the 3rd All Japan Tennis Championships Men's Doubles in 1924 and advancing to the 4th round of the Wimbledon Championships Men's Singles in 1932. He worked for Bank of Tokyo- Mitsubishi (now Bank of Tokyo- Mitsubishi UFJ ) and was a bank in London from July 1930 to March 1935. Being in a branch office, he performed well in tennis tournaments in England, especially at the Wimbledon Championships. Aoki's tennis had some weaknesses in the forehand stroke, but he showed his strength in the field of doubles in all of the backhand stroke, volley and smash, and he was especially good at lob technique.

Aoki was born as the eldest son of five siblings. Since his father was a branch manager of a Mitsubishi joint-stock company, he experienced moving many times as a boy. When he was six years old, a tennis court was built on the mountain of the company housing in Moji City (now Moji Ward , Kitakyushu City ), and Iwao started playing tennis. Eventually, his father was transferred to the Tokyo branch of Mitsubishi Joint Stock Company, and his family settled down in Kashimaya, Shinagawa-ku, Tokyo (currently Oi 6-chome). After graduating from Jinjo Elementary School, he went on to Keio University through the Keio Ordinary Club. At first, he belonged to the gymnastics club of the university, but he became a member of the gymnastics club from the first grade of this department. The All Japan Tennis Championships were founded in 1922 while still in school, and Aoki lost the first round of men's doubles in the first tournament, but in the second tournament in 1923, he teamed up with Takeichi Harada of the same Keio University for boys, he recorded a doubles runner-up. The following day, 1924, at the 3rd All Japan Championship Men's Doubles, Aoki was at Waseda University, teamed up with Takashi Ukegawa to defeat Waseda pair Tamio Abe & Shin Kawajiri 6-4, 6-4, 6-0 to win their first victory.

Prior to winning the All Japan Doubles, he graduated from Keio University, got a job at Mitsubishi Bank, and entered the head office sales department. In December of the same year, he joined the Japanese Army and became a "one-year volunteer" ( a system before the enforcement of the Military Service Law ), and worked as an apprentice officer. During that period, the Kinsey brothers (Howard and Robert) from the United States visited Japan in April 1925. Aoki, along with Takashi Ukegawa, the all-Japan doubles championship partner of the previous year, played against the Kinsey brothers in singles and beat his brother Howard in singles. This is his first match record with a foreign player. After being discharged in April 1926, he returned to the bank's head office sales department and moved to work in the foreign exchange department in 1927. He continued to participate in tennis tournaments alongside banking, and there is a record of playing against Lum Pao-Hua, who came to Japan from the Republic of China in April 1928 (Aoki won the straight 6-0, 6-4). In 1929, there were two groundbreaking events in the history of Japanese tennis, and Iwao Aoki participated in both events. One of them is Davis Cup donor Dwight Davis' visit Japan in June. The Japan Garden Ball Association welcomed Chichibumiya to the "Tokyo Lawn Tennis Club" and held a "Welcome Match for Mr. Davis", and Aoki played against Jiro Sato in singles. The other one, in October after four months France from Henri Cochet, Jacques Brugnon is that, Pierre Landry, Raymond Rodel came to Japan in the four-line. The Japan Tennis Association has set up two tennis courts with a temporary stand that can accommodate 2000 people in Tokyo for this "Japan-France competition". Aoki participated in one singles match and one doubles match, winning a straight victory over Raymond Rodel 10-8, 6-1 in the singles, and 6-3, 6 in the doubles with Takeichi Harada. -3, 3-6, 7-5 won.

In July 1930, Iwao Aoki was transferred to the London branch of Mitsubishi Bank , where his life in England began. Japanese tennis players such as Ryuki Miki, who also traveled to England for work, also lived in London at that time. He lived in London until March 1935, during which he participated in the Wimbledon Championship four times from 1931 to 1934. Aoki's best result at Wimbledon was in the 4th round in 1932, when he played against Ellsworth Vines ( USA ), who was at its peak at the time, on the center court and showed a good fight to steal the second set from Vines. After defeating Aoki 6-2, 3-6, 6-3, 6-2, Vines did not lose a single set in the three games since the quarterfinals and became the 1932 Wimbledon winner. Therefore, Aoki's success, "taking one set from Vines," was a big hit in Japan. In this Wimbledon, Jiro Sato also advanced to the semi-finals with Henry Austin, and the popularity of Japanese male tennis players in England increased. However, Aoki had a stronger sense of responsibility for banking, so the Davis Cup in the team competition. He never responded to the request to participate and continued to say, "I am assigned to London for work." In the 1931 Davis Cup "Europe Zone" semi-final match against England, one of the representative players, Jiro Sato, complained of a gastrointestinal disorder, so teammate Hyotare Sato sent a telegram to the Japan Garden Ball Association and Sato. Instead of Jiro, he said, "I would like to recommend Ryuki Miki and Iwao Aoki as Davis Cup players," but the Garden Ball Association has rejected this offer.

In March 1935 , Aoki was ordered by Mitsubishi Bank to return to the morning and left London, where he lived for five years. He returned to the foreign exchange department of the Tokyo head office in June of the same year, and moved to the foreign exchange department of the Osaka branch in September 1936. At that time, in October 1936, the Yomiuri Shimbun sponsored the "Japan-US International Garden Ball Battle" , and in addition to Bill Tilden and Ellsworth Vines , female professional player Sharp was to come to Japan. Prior to the arrival of the three in Japan, the organizer, The Yomiuri Shimbun, asked Aoki for an introduction to Vines. Aoki, who took the second set from Vines in the fourth round of Wimbledon in 1932 four years ago, was the best candidate for this manuscript. The Yomiuri Shimbun, dated October 1, 1936, contained an article on "Talking about the Vines" written by Iwao Aoki. After being transferred to Osaka, Aoki served as a director of the "Koshien International Garden Club" while working as a foreign exchange import manager at a bank. In February 1939, he was replaced by a foreign exchange export chief at a bank, but only two months later a sudden illness struck him.

Aoki complained of abdominal pain in the early morning of April 19. Initially diagnosed with worm-like appendicitis ( acute appendicitis ), he immediately underwent laparotomy at " Osaka Kaisei Hospital " in Kinugasa-cho,Kita-ku,Osaka. A symptom different from appendicitis appeared, and he was diagnosed with "strangulation intestinal obstruction", and a second operation was performed on April 27. At 9:09 pm on May 2, 1939 , Aoki died of intestinal obstruction at the age of 37. According to the customs of the time, his age is described as "39 ​​years old" in counting years, but he is 37 years and 6 months old at full age. One month before the onset of illness, the last tennis match was played in a doubles match against the Asahi Shimbun club. The funeral was held at a funeral home in Osaka City, and the remains were taken to parents in Tokyo and then buried in the Aoki family's graveyard at Tsurumi Sojiji Temple .

In memory of Aoki's premature death, a memorial record contributed by his friends was published in September 1940 under the title "Iwao Aoki". A total of 503 pages of detailed memorials were collected from more than 140 people who had a close relationship with him. Among them, he took care of not only his rivals from Keio University and his colleagues from banking, but also foreign players who met at the Wimbledon Championship during his life in England, and his last bed. The diary of the attending physician is also included. For a tennis book written in Japanese during this period, a high-level book was completed. However, nearly 70 years later, the number of printed books remaining has decreased, and the books in the National Diet Library have been converted into "micro materials." This book is also registered in the "Tennis Reference Room Literature Guide: Books" of the Japan Tennis Association .
Tournament
AO
RG
W
US
Win-Loss
Subscribe now

This information and data is not available because you are not our subscriber yet.
Please click here and get full access to the entire database!