Francisco Gonzalez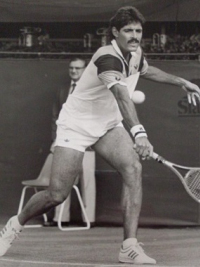 Born
Subscribe now

This information and data is not available because you are not our subscriber yet.
Please click here and get full access to the entire database!

Height
Weight
Plays
Bio
He played professional tennis in the 1970s and 1980s. He represented Paraguay in Davis Cup and played collegiate tennis at the Ohio State University.
González was born in Wiesbaden, where his father was stationed as an officer at the US military base. He grew up in Puerto Rico and graduated from Ohio State University, where he was voted into the All-American Best Selection.

He became a professional tennis player in the late 1970s and won his first doubles title at the 1979 ATP World Tour in Sydney. In the same year he managed a second double title. In 1980, he celebrated his biggest career success in singles, as he reached the final of the Masters tournament of Cincinnati, among other things by a victory over the highly favored Jimmy Connors, but defeated there Harold Solomon. After a less successful year in 1981, he won his third doubles title alongside Matt Mitchell the following year, his best result being the semi-finals at the Japan Open. In 1983 he was able to win four doubles titles, in the following year, another three more, including the Cincinnati Masters. He was also in his second single this year, but was defeated in Brisbane against Eliot Teltscher.

In 1985, he reached the mixed final with Paula Smith at the French Open, but lost there against Navrátilová / Günthardt in three sets. In 1986 he was in the double final three more tournaments, but he could win no further tournament victories. Overall, he won in the course of his career ten ATP double titles, another ten times he stood in a double final. His highest record in the tennis world rankings, he reached in 1978 with 36th position in singles and in November 1984 with 24th position in the doubles.

His best single result in a Grand Slam tournament was the knockout round at Wimbledon in 1981. In the doubles, he reached the quarter-finals of the Australian Open, the French Open and the US Open, at Wimbledon he came twice in the last sixteen.

González played between 1982 and 1989 for the Paraguayan Davis Cup team. Together with Víctor Pecci succeeded by group victories against Peru, Uruguay and Ecuador victory in the South American Group. In the subsequent playoff against the winner of the North American Group Canada, they qualified for the World Group, where they each penetrated into the quarter-finals in the next three years. His biggest successes with the team included individual victories over Andrés Gómez, Tomáš Šmíd and Henri Leconte, as well as a victory over the Swedish doubles from Stefan Edberg and Anders Järryd.

The biggest singles final of his career was at Cincinnati in 1980, defeating Jimmy Connors in the semifinals 6–2, 7–6 before falling to Harold Solomon.

Francisco González has been the head tennis professional at Sierra Sport & Racquet Club since 1998. He had career wins over Ivan Lendl, Jimmy Connors, Stefan Edberg, Andrés Gómez, Vitas Gerulaitis, Yannick Noah, Eliot Teltscher, Johan Kriek, and Henri Leconte.
Tournament
AO
RG
W
US
Win-Loss
Subscribe now

This information and data is not available because you are not our subscriber yet.
Please click here and get full access to the entire database!