Charles Loughlin
Full name: Charles Elliott Loughlin
Nickname: Elliott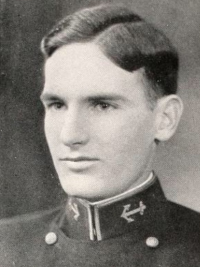 Born
Subscribe now

This information and data is not available because you are not our subscriber yet.
Please click here and get full access to the entire database!

Died
Plays
Bio
He was an officer of the United States Navy, where he reached the rank of Rear Admiral. He is best known for his court-martial following the controversial sinking of the Japanese hospital ship Awa Maru. He was the commanding officer of the USS Queenfish (SS-393) during four war patrols. Loughlin earned two Navy Crosses, two Legions of Merit and one Silver Star during his time in the United States Navy.

While at the United States Naval Academy in Annapolis, Maryland, Loughlin played on the Midshipmen men's tennis and basketball teams and was named a consensus First Team All-American for basketball in 1932–33. Loughlin graduated from the Academy in 1933 and served in the battleship USS New Mexico (BB-40), part of the time as an assistant to Lieutenant Hyman G. Rickover. Following this, he went to submarine school and served in various submarines before taking command of the USS S-14 (SS-119) in the Panama area. Aboard S-14, Loughlin made four unremarkable Atlantic patrols.
As member of a three-submarine wolfpack, Queenfish sank the 4,700-ton tanker Chiyoda Maru on August 31, 1944; and the 7,097-ton passenger-cargo ship Toyooka Maru and 3,054-ton transport Manshu Maru on September 9, 1944. On September 18, Queenfish rescued 18 British and Australian prisoners of war adrift and afloat since their Japanese transport was sunk beneath them September 12. As the commander of a "wolfpack" of three submarines (Loughlin's Loopers I), on November 8, 1944, Loughlin sank 1,051-ton cargo ship Keijo Maru and the 1,948-ton cargo ship Hakko Maru. On 9 November, Queenfish sank the 2,131-ton ex-gunboat Chojusan Maru; on November 15 she sank the 9,186-ton aircraft ferry Akitsu Maru. Again the commander of a wolfpack of three submarines (Loughlin's Loopers II), Loughlin found great success as a wolfpack commander but comparatively little as a submarine commander. The wolfpack was given the mission of preventing reinforcement of the Philippines. Though personally receiving credit for just one-third of a sinking (shared with his packmates) Loughlin's Loopers II sank four ships and damaged three more. Now as the commander of a two-submarine wolfpack, Loughlin on April 1, 1945 sank the 11,600-ton passenger-cargo ship Awa Maru, marked and accepted as a protected hospital ship.
Following court-martial, Loughlin joined Vice Admiral Charles Lockwood's staff. He later served as the Naval Academy's athletic director and is credited with the rebirth of the football, cross country and wrestling programs at the school through his fundraising efforts. Loughlin continued his career by serving on various staffs, was executive officer of the submarine tender USS Orion (AS-18), commanded a submarine division and a submarine squadron. He became commanding officer of the oiler USS Mississinewa (AO-144) and the cruiser USS Toledo (CA-133). He was plans officer on SACLant staff, and Commander Submarine Flotilla Six during the buildup of the Polaris force, for which he was awarded his first Legion of Merit.
Tournament
AO
RG
W
US
Win-Loss
Subscribe now

This information and data is not available because you are not our subscriber yet.
Please click here and get full access to the entire database!