Ben Shelton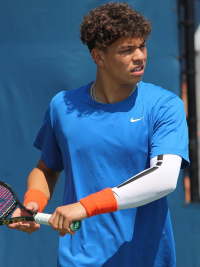 Born
Subscribe now

This information and data is not available because you are not our subscriber yet.
Please click here and get full access to the entire database!

Height
Weight
Plays
Coach
Bio
He is an American professional tennis player.
Shelton won the 2016 USTA junior national championship in doubles. He played college tennis for the Florida Gators where he won the men's singles title at the 2022 NCAA Division I Tennis Championships. That same year, he was named the ITA National Player of the Year.
Shelton is the son of former professional tennis player and Florida Gators men's tennis coach, Bryan Shelton. His mom, Lista Witsken Shelton, was a highly ranked junior tennis player, his uncle Todd Witsken was a professional tennis player and his sister Emma played college tennis at Florida. Shelton was born in Atlanta, Georgia, as his father was the-then coach of Georgia Tech's women's tennis team. He currently lives in Gainesville, Florida and graduated from Buchholz High School.

As a child, Shelton did not want to play tennis and instead played American football. Despite both of his parents both having connections to the game of tennis, they did not pressure him to play the sport. At age 12, Shelton began playing tennis regularly and was coached by his father Bryan, who is also a college tennis coach.

When Shelton turned 16, he considered playing ITF Junior tournaments abroad, but his father urged him not to do so saying: "Why do you need to travel abroad when you're not the best." Shelton ultimately credits his father's advice to not play ITF Junior tournaments abroad as helping his tennis development because he was not constantly traveling and instead had a routine.

Shelton peaked at a high of the No. 3 player in the USTA Boy's 18s division and No. 306 ITF Junior. He was a finalist at the 2020 USTA Boys 18s Singles Winter Nationals and won the 2019 USTA Boys 16s Doubles Clay Court tournament.

In June 2020, on Father's Day, Shelton committed to play collegiate tennis for the Florida Gators, under his father, Coach Bryan Shelton.

A finance major, Shelton helped lead the Gators to their first national championship. Shelton had a singles record of 10-2 and won the championship-clinching match for the Gators.

In 2022, Shelton shined during his sophomore year going 37-5 in singles matches and winning the NCAA Singles Championship over August Holmgren. He finished the year as the No. 1 singles player in ITA rankings. He was subsequently named the 2022 ITA National Player of the Year and the 2022 SEC Player of the Year.

As a rising-junior, Shelton was slated to return to Florida for the 2023 school year and stated he wanted to complete his finance degree. Shortly after his successful run at the 2022 Cincinnati Masters, Shelton announced he would forgo his remaining college eligibility to turn professional and continue his college education online.

At the Georgia's Rome Challenger in July, Shelton reached his first Challenger final, losing to Wu Yibing. The next week at the Indy Challenger, he reached the semifinals, highlighted by a win over world No. 103 Tim van Rijthoven.

He made his ATP Tour debut at the Atlanta Open as a wildcard, and in the first round he defeated Ramkumar Ramanathan for his first ATP win. He lost his next match to the No. 2 seed John Isner in three sets. Shelton received a wildcard entry into the Cincinnati Masters. In the first round, he defeated world No. 56 Lorenzo Sonego in three sets for his first win over a top-100 player. In the 2nd round, Shelton faced world No. 5 Casper Ruud in his first matchup against a top-10 opponent. Shelton defeated Ruud, in straight sets, by a score of 6–3, 6–3 for his first top-10 win.

On August 23, 2022, Shelton announced he was forgoing returning to college and would turn professional. He announced that he would be represented by agent Alessandro Sant Albano, who is a part of Roger Federer's TEAM8 management firm.

He received a wildcard to appear in the main draw for his Grand Slam debut at the US Open on August 14.

Shelton's best weapon is his serve. He has the ability to hit a big first serve, which averages 126 miles-per-hour. He also can produce a significant amount of kick on both first and second serves. A left-handed player, Shelton is powerful and consistent on both the forehand and backhand side. He is comfortable moving to the net off his powerful groundstrokes to finish points. Shelton has said "I love to get to net, be able to use some of my hand skills, athletic skills and going up to get the ball (to put away overheads) is one of my favorite things to do..." He has said that the serve-and-volley is an important part of his game and an area he wants to further develop.
Tournament
AO
RG
W
US
Win-Loss
Subscribe now

This information and data is not available because you are not our subscriber yet.
Please click here and get full access to the entire database!