Venus Williams
Full name: Venus Ebony Starr Williams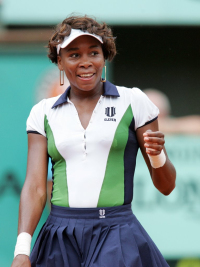 Born
June 17, 1980 in Lynwood, California
Height
6'1" (185cm)
Weight
161 lbs (73kg)
Plays
Right-handed
Coach
Richard Williams, Oracene Price, David Witt
Bio
Venus Ebony Starr Williams (born June 17, 1980) is an American professional tennis player. A former world No. 1, Williams is generally credited with ushering in a new era of power on the women's professional tennis tour.

Venus has been ranked world No. 1 by the Women's Tennis Association on three occasions, for a total of 11 weeks. She first reached the No. 1 ranking on February 25, 2002, the first African American woman to do so in the Open Era, and the second all-time since Althea Gibson. Williams' seven Grand Slam singles titles are tied for 12th on the all-time list, and 8th on the Open Era list, more than any other active female player except her sister. She has reached 16 Grand Slam finals, most recently at Wimbledon in 2017. She has also won 14 Grand Slam Women's doubles titles, all with Serena Williams; the pair is unbeaten in Grand Slam doubles finals. Williams also has two Mixed Doubles titles. Her five Wimbledon singles titles tie her with two other women for eighth place on the all-time list, but gives her sole possession of No. 4 on the Open Era List, trailing only the nine titles of Martina Navratilova and the seven of Serena Williams and Steffi Graf. From the 2000 Wimbledon Championships to the 2001 US Open, Williams won four of the six Grand Slam singles tournaments in that span. At the 2019 US Open, Williams extended her record as the all-time leader, male or female, in Grand Slams played, with 84. With her run to the 2017 Wimbledon singles final, she broke the record for longest time between first and most recent grand slam singles finals appearances. Williams was twice the season prize money leader in 2001 and 2017.

Williams has won four Olympic gold medals, one in singles and three in women's doubles, along with a silver medal in mixed doubles, pulling even with Kathleen McKane Godfree for the most Olympic medals won by a male or female tennis player. She is the only tennis player to have won a medal at four Olympic Games. At the 2000 Sydney Olympics, Williams became only the second player to win Olympic gold medals in both singles and doubles at one Olympic Games, after Helen Wills Moody at the 1924 Summer Olympics.

With 49 singles titles, Williams trails only her sister Serena Williams among active players on the WTA Tour with most singles titles. Her 35-match winning streak from the 2000 Wimbledon Championships to the 2000 Generali Ladies Linz tournament final is the longest since January 1, 2000. She is also one of only three active WTA players to have reached the finals of all four Grand Slams, along with Serena Williams and Maria Sharapova.

Williams is a very powerful baseliner who also has an attacking all-court game. Her game is well adapted to grass, where she feels most comfortable, which is reflected in her five Wimbledon singles titles. She has developed into a skilful volleyer who uses her long arm span (1.85m) and agility around the net. Williams also has great court coverage and can hit winners from a defensive position.


In 2003, at age 31, Yetunde Price, Venus and Serena Williams' older half-sister, was shot dead in Compton, California, near the courts on which the sisters once practised. Price was the Williams sisters' personal assistant. The Williams family issued this statement shortly after the death: "We are extremely shocked, saddened and devastated by the shooting death of our beloved Yetunde. She was our nucleus and our rock. She was a personal assistant, confidant, and adviser to her sisters, and her death leaves a void that can never be filled. Our grief is overwhelming, and this is the saddest day of our lives."

On December 13, 2007, Williams received her associate degree in fashion design from the Art Institute of Fort Lauderdale.

Williams' longtime boyfriend, pro golfer Hank Kuehne, was a visible presence from the time of Wimbledon 2007 until 2010, when Kuehne dated and (in May 2011) married his current wife, Andy. Williams is now dating millionaire heir Nicholas Hammond.

In 2011, Williams was forced to withdraw from the US Open before her second-round match, following a Sjögren's syndrome diagnosis. After the diagnosis, she adopted a vegan diet, as well as reducing her intake of calories and sugars, which helped get her back to match-winning fitness.

In 2012, Venus Williams met Cuban Model Elio Pis when he was hired as an underwear model for her clothing line and started dating until 2015.

In 2015, Williams received a Bachelor of Science degree in Business Administration from Indiana University East. Starting in 2011, she completed the degree through a reciprocal agreement between the university and the Women's Tennis Association which allows athletes to play tennis professionally while studying online. Her ultimate goal is to get an MBA in the near future.
Misc
Williams holds the record for fastest serve in three of the four Grand Slam tournaments: 2007 French Open second round, 2008 Wimbledon final, 2007 U.S. Open first-round – 129 mph (208 km/h). She is using Wilson Blade 104 racket, while her clothing provided by EleVen and shoes Nike

In 1995, when Williams was 14 years old, she signed an endorsement deal with Reebok and wore the company's apparel and shoes. She used Wilson Hammer 6.2 Stretch racket.

Williams considers herself to be one of Jehovah's Witnesses.