Norma Baylon

Alias: Planas
Puiggros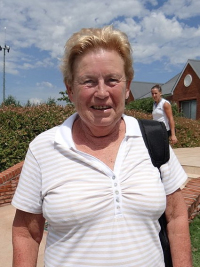 Born
Subscribe now

This information and data is not available because you are not our subscriber yet.
Please click here and get full access to the entire database!

Plays
Bio
Norma Baylon is a former professional tennis player from Argentina who became a top 5 player in the world in the 1960s.
In 1956 and 1957 he was twice youth champion, and five years later, in 1962 took a big step to win the National Championship, in Buenos Aires. In the semifinal he beat South African Renee Schuurman, by 5, 0-6, 6-3,6-0. Then in the final he beat the Czech Věra Suková who was the finalist at Wimbledon, and who invited her to play in the doubles circuit it.2

That year was recognized in his country when he was awarded the Olimpia de Oro, and was also the first woman to achieve that reconocimiento.
The following year reached the fourth round at Roland Garros where he lost to Lesley Turner 6-3,6- 2. He also reached the same stage at Wimbledon, there he faced Margaret Smith who lost 6-3, 6-3. Standard would face several times with the Australian Smith who would be his main rival in his career.

Then he was a finalist in women's doubles at Roland Garros Tournament 1964. His partner at the tournament was Helga Schultze, however in this instance were defeated by Margaret Smith and Lesley Turner 6-3 6-1. That year also is defeated by Smith in the quarterfinals of Wimbledon who came to her 6-0, 2-0 before abandoning Baylon.

His next participation in Wimbledon 1965 was not good, because they fell in the second round, as had also fallen in the Australia Open that year. At Roland Garros he could go a little further, however the Australian Margaret Smith returned to truncate participation in quarterfinals. He also participated in the US Open for the first time in his career where he lost in the quarterfinals against Nancy Richey. Beyond these results this season Baylon was crowned champion in singles and doubles in Munich and Zurich only in doubles.

The following year he returned to reach the same instance the English grand slam, but there could be no more than the Brazilian Maria Bueno, another prominent female tennis players of the time, who came from being champion three times of that competition would to be crowned at that time. While in doubles, and together with the South African Annette Van Zyl was crowned in Rome Open after winning that year the couple composed by Ann Haydon-Jones and Elizabeth Starkie 6-3, 1-6, 6-2.3

He also won the triple crown (singles, doubles and mixed doubles) in the six tournaments Caribbean circuit, won in Kitzbuhel and won 10 titles in doubles, reaching the 4th position in the world rankings in 1966.2 However in 1967 decided to move away Tennis suddenly after her marriage.

His interest was awakened in her tennis at an early age. Olindo Baylon, his father, associated with the Buenos Aires Lawn Tennis Club after the door of a house furniture will be destroyed by small balls Norma.4

Well, I started to "play" after three years with a paddle and a ping-pong against the closet door of my parents' house in Belgrano. Until my mom got tired and told my dad "Comprale a racket because the baby has me tired with ticky ticky". And after five years I bought my first bike, if I remember correctly was a Sarina, those that no longer exist

Regarding his stay in Europe, Norma said that while he missed because he spent from early January to late October "was taking natural":


My mother liked Wimbledon and one month stayed with me. Also, my grandfather lived in a small town in the mountains near Munich, and then I sent all my awards. After arming him a wooden box and was sent by ship he had gathered everything

He married in 1967 with the Peruvian tennis Puiggros Bartholomew, with whom he had three children, 3 why he lived for 25 years in Peru.4

In 1988 I had the opportunity to be a judge at the Olympic Games in Seoul in which Gabriela Sabatini won the medal plata.5

Later in 1993, he returned to Argentina, and served as program coordinator for disabled courts of Argentina Tennis Association.
Tournament
AO
RG
W
US
Win-Loss
Subscribe now

This information and data is not available because you are not our subscriber yet.
Please click here and get full access to the entire database!