Kveta Hrdlickova
Full name: Kvetoslava Hrdlickova
Nickname: Kveta
Alias: Mrs T.Peschke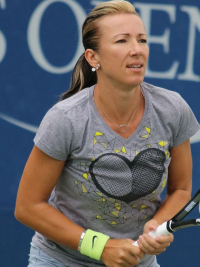 Born
Subscribe now

This information and data is not available because you are not our subscriber yet.
Please click here and get full access to the entire database!

Height
Weight
Plays
Bio
She is a professional tennis player from the Czech Republic.
Before 2003, Peschke was known as Květa Hrdličková.
Peschke plays mostly on the baseline, with her best shot being the forehand. Her favourite surfaces are hard court and carpet. At Wimbledon 2011, Peschke claimed her first grand slam doubles title alongside Slovenia's Katarina Srebotnik. Peschke became the first Czech player to win the Wimbledon women's doubles title since Jana Novotná in 1998. Peschke and Srebotnik also took over the No. 1 ranking in doubles and they won a WTA Award as 'Doubles Team of the Year' in November 2011.

In her first event of the season, she reached the quarterfinals of a Tier-V event in Hobart. At Wimbledon, she reached the fourth round, defeating Vera Zvonareva and Conchita Martínez, a former winner. She reached her first semifinal of the year at a tier II event in Linz, defeating Elena Dementieva, Zvonareva and Ai Sugiyama. She also reached a quarterfinal at another Tier II event in Philadelphia before losing to Dementieva in three sets.

Peschke's doubles career has been more successful, including her top-10 debut in the doubles ranking in September 2006. In 2005, she won two WTA doubles titles in Paris (Tier II) and in Linz (Tier II) and reached the finals of four WTA Tour doubles events. In 2006, she won WTA doubles titles, defending her 2005 title at Paris and winning in Dubai (Tier II). Her main successes in doubles came at three of the four grand slams, reaching the quarterfinals of the French Open, the quarterfinals of Wimbledon, and the semifinals of the US Open. Her partner in each event was Francesca Schiavone. She also lost in the 2006 US Open mixed doubles final with Martin Damm to Bob Bryan and Martina Navratilova.

At the 2007 US Open, Peschke and Rennae Stubbs reached the doubles semifinals, before losing to Nathalie Dechy and Dinara Safina. The Peschke-Stubbs team won their first title in Stuttgart. In the final, the team defeated Chan Yung-jan and Safina in three sets. Other titles included Los Angeles and the 2007 Zurich Open.

Peschke partnered with Aisam-ul-Haq Qureshi of Pakistan to reach the final of the mixed doubles at the US Open. In the final, Peschke and Qureshi lost to Bob Bryan and Liezel Huber in straight sets.

Peschke and Slovenia's Katarina Srebotnik were one of the most victorious doubles team in 2011. The pair won in Auckland, Doha, Carlsbad, Eastbourne and Beijing, they won their first Grand Slam title at Wimbledon, defeating Sabine Lisicki and Samantha Stosur in the final.

She won two doubles titles in 2012: Sydney with Srebotnik and Linz with Anna-Lena Grönefeld.

Peschke has played eight seasons with World TeamTennis starting in 2008 when she debuted in the league with the Kansas City Explorers. She stayed with the Explorers for another three years (2008-2011), then played a season with the New York Sportimes in 2013, the San Diego Aviators in 2014, the Philadelphia Freedoms in 2017, and the Washington Kastles in 2019. It was announced that she will be joining the New York Empire during the 2020 WTT season set to begin July 12.
Tournament
AO
RG
W
US
Win-Loss
Subscribe now

This information and data is not available because you are not our subscriber yet.
Please click here and get full access to the entire database!