Gigi Fernandez
Full name: Beatriz Fernandez
Nickname: Gigi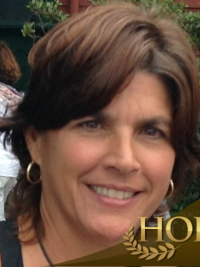 Born
Subscribe now

This information and data is not available because you are not our subscriber yet.
Please click here and get full access to the entire database!

Class of HOF
Height
Weight
Plays
Bio
Beatriz "Gigi" Fernández is a former professional tennis player, the first female athlete from her native Puerto Rico to turn professional, the first Puerto Rican woman to ever win an Olympic gold medal and the first to be inducted into the International Tennis Hall of Fame.

Inducted alongside doubles partner Natasha Zvereva, Gigi Fernandez was considerd to be one of the greatest doubles players of all time. With Zvereva, Gigi amassed an impressive 14 Grand Slam titles. Their passion and skill on the court was remarkable, and it is hard to find a pair who showed as much enthusiasm and love for the game as these two outstanding players. They hold the second-longest Grand Slam doubles title streak in Open Era history, winning six in a row from the French Open in 1992 through Wimbledon in 1993 (second to Martina Navratilova / Pam Shriver's record of eight). The pair also completed a non-calendar year Grand Slam that ran from the 1992 French Open to the 1993 Australian Open. Fernandez and Zvereva were named the WTA Doubles Team of the Year on four occasions: 1993, 1994, 1995 and 1997.. She reached a career high singles ranking of 17 in 1991. Since retiring from the professional tour in 1997 at the age of 33, Fernández has been a tennis coach and entrepreneur.

Fernández was born in San Juan. Her father Tuto was a well-known doctor in Puerto Rico. Her cousin José Ferrer was a famous Puerto Rican actor and director. Fernández started playing tennis when she was seven. When she turned professional in 1983, she became Puerto Rico's first-ever female professional athlete. Prior to turning professional, she played tennis for one season at Clemson University, in 1982–83, where she was a singles and doubles All-American and reached the National Collegiate Athletics Association singles final.

Since retiring from the tour, Fernández has worked as a tennis coach. She has coached players including the former World No. 1 doubles player Rennae Stubbs, Lisa Raymond, and Samantha Stosur. She has also coached for the Puerto Rican national team and the University of South Florida. Fernández also remains active in corporate hospitality events and participates in fundraisers throughout the country.

Fernández earned a Bachelor of Arts in psychology from the University of South Florida in 2003. She later graduated from Rollins College's Crummer School of Business where she earned a Master of Business Administration. She is the mother of twins, Karson Xavier and Madison Jane, and the partner of retired professional golfer and current WWE executive Jane Geddes.

In 2010, Fernández started a company called Baby Goes Pro. She presently resides in Connecticut, and is the Director of Tennis at Chelsea Piers Connecticut, also in Stamford


Fernández was recognized primarily as a doubles specialist during her professional career. Fernández won a non-calendar year doubles Grand Slam with 17 Grand Slam women's doubles title – six French Open, five US Open, four Wimbledon, and two Australian Open winning at least one Grand Slam title every year from 1988–1997, except 1989, and for three straight years winning three of the four Grand Slam doubles titles in the same year (1992–1994).
She won 14 of her 17 Grand Slam titles partnering Natasha Zvereva; their partnership is the second most successful doubles pair in Grand Slam history after Martina Navratilova and Pam Shriver in the Open era.

In mixed doubles, Fernández was the runner-up in three of the four Grand Slam mixed doubles events in 1995 (Australian Open, Wimbledon, and US Open) partnering Cyril Suk. Fernández captured 68 career titles in women's doubles and reached the World No. 1 doubles ranking in 1991 and attained the No. 1 ranking again in 1993, 1994 and 1995. She won a total of 69 doubles titles during her career.

Fernández represented the United States at the Olympic Games in 1992 (Barcelona) and 1996 (Atlanta). She teamed with Mary Joe Fernández (no relation) to win the women's doubles gold medal on both occasions. The first gold medal was won against the home team of Conchita Martínez and Arantxa Sánchez Vicario with the King and Queen of Spain in the audience. The two medals are front and center on Fernández's desk, along with a car license plate that reads "DBL GLD".

Fernández represented Puerto Rico when San Juan played host to the Pan Am Games in 1979. Just 15, Fernández won a bronze medal. In 1982 at the Central American-Caribbean Games in Cuba, she teamed up with Marilda Juliá to win doubles gold and won a silver medal in the singles as well. She represented Puerto Rico at the 1984 Olympics.

Fernández was also on the United States team that won the Fed Cup in 1990.

In singles, Fernández reached as high as World No. 17. She also won two top-level titles and reached the semifinals at Wimbledon in 1994 (ranked 99 becoming the lowest-ranked grand Slam singles semi-finalist at Wimbledon) and the quarterfinals at the US Open in 1991 and 1994.

Fernández retired from the professional tour in 1997. By far the most successful tennis player in the history of Puerto Rico, Fernández was named Puerto Rico's "Female Athlete of the Century" in 1999

On July 12, 2010, Fernández was inducted in the International Tennis Hall of Fame alongside Zvereva.
Tournament
AO
RG
W
US
Win-Loss
Subscribe now

This information and data is not available because you are not our subscriber yet.
Please click here and get full access to the entire database!