This page is dedicated to Jean Laurent Robert Borotra (13 August 1898 – 17 July 1994) who was a French tennis champion. He was one of the famous "Four Musketeers" from his country who dominated tennis in the late 1920s and early 1930s. Borotra was imprisoned in Itter Castle during the latter years of World War II and subsequently fought in the Battle for Castle Itter.
Borotra was born in Domaine du Pouy, Biarritz, Aquitaine, the oldest of four children. Known as "the Bounding Basque", he won four Grand Slam singles titles in the French, Australian, and All England championships. He only failed to win the U.S. Championships, as he was defeated in the final by his countryman René Lacoste in straight sets, thus missing a career Grand Slam. His 1924 Wimbledon victory made him the first player from outside the English-speaking world to win the tournament. His first appearance was in the French Davis Cup team of 1921. He also made the final of the World Covered Court Championships in 1922, losing to Henri Cochet, but won the doubles and mixed doubles. The other major he did well in was the World Hard Court Championships (played on clay) – he won the doubles with Henri Cochet there in 1922.
Borotra was ranked as high as World No. 2 by A. Wallis Myers of The Daily Telegraph in 1926.
A member of François de la Rocque's Parti social français (PSF), he became 1st General Commissioner for Education and Sports from August 1940 to April 1942 during Vichy France, leading the Révolution nationale's efforts in sports policy. Arrested by the Gestapo in November 1942, Borotra was deported to a concentration camp in Germany and then Itter Castle in North Tyrol until May 1945. He was freed from the castle after the Battle for Castle Itter, in which he played a courageous role by vaulting from the fortress and running to a nearby town to summon reinforcements.
In 1974, Borotra was one of the last three people to be awarded the Olympic Diploma of Merit. The Four Musketeers were inducted simultaneously into the International Tennis Hall of Fame in Newport, Rhode Island in 1976. In 1984, Borotra received a Distinguished Service award from the United States Sports Academy in recognition of his achievements. As the oldest living gentleman's singles champion, Borotra was invited to present the singles champion his trophy at the 100th Wimbledon Championship in 1986. On 17 July 1994, Borotra, founder and president of honour of the CIFP (International Committee for Fair Play) died at the age of 95, after a short illness. He was buried at Arbonne.
The International Fair Play Committee, which recognises achievements annually, awards a Jean Borotra World Fair Play Trophy. In 1938 Borotra married Mabel de Forest and they had one son. The couple divorced in 1947. In 1988 he married Janine Bourdin.
Bud Collins wrote about him:
"In many ways, Jean Robert Borotra fit the image of the cosmopolitan Frenchman: A spectacular, debonair personality, a gallant kissing ladies' fingertips, a host of elegant parties aboard the Ile de France or at his fashionable residence in Paris. Borotra, a right-hander (6-foot-1, 160), was spectacular, too, on the tennis court in the 1920s and early '30s. He won Wimbledon in 1924 and 1926 and was runner up in 1925 and 1927. He won the championship of France in 1924 and 1931 and the Australian title is 1928. And he was a demon in international play, one of the Four Musketeers who in 1927 broke the U.S. grip or the Davis Cup and brought it to France for the first time. Born on Aug. 13, 1898, at Arbonne, Basque Pyrenees country near Biarritz, France, he first attracted wide attention when he played in the 1921 coveted championship in Paris. Standing out with a dramatic aggressive style of play--and with the blue beret he always wore--Borotra became known as the 'Bounding Basque from Biarritz.'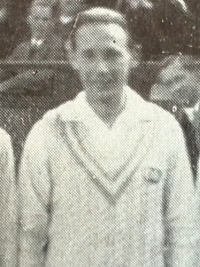 His energy on the court was limitless, marked by headlong assaults and dashes for the net, both on his service and return of service, then stampede back to retrieve lobs. No player could start faster or dash so madly. His service was not a cannonball but it was not to be trifled with. His backhand return: service and backhand volley were vividly individual thrusts for the kill. Borotra was named to France's Davis Cup team in 1922, and in 1923 he assembled with Rene Lacoste Henri Cochet, and Jacques Brugnon, a great doubles player, to form the Four Musketeers. Not only did he help the French win their first Cup in 1927, but they also held it for five years thereafter. In the 1932 challenge round, Borotra reached heights of inspiration against the U.S.
He defeated Ellsworth Vines, the winner of Wimbledon and the U.S. Championship that year. On the final day, Borotra lost the first two sets to Wilmer Allison, and with the Texan holding a fourth match point in the fifth set, Borotra second serve appeared to be out. Allison ran forward for the handshake, thinking he had won, but the linesman insisted the serve was good and play resumed. Borotra pulled out the victory and France retained the Cup. With his dazzling performances, Borotra was popular everywhere. This included the Seventh Regiment Armory in New York, where he was in his element on the fast board courts and four times won the U.S. Indoor Championship. He was not rated quite the player that Cochet and Lacoste were, but Borotra's celebrity endured and the legs that ran like fury kept him active in tennis into his '70s as a competitor in the senior division at Wimbledon. He was among the champions honored at the 1977 Wimbledon Centenary a year after he was enshrined with the three other Musketeers in the Hall of Fame. He was ranked in the World top ten nine straight years from 1924, No. 2 in 1926. Jean was inducted into the International Tennis Hall of Fame in 1976."