This page is dedicated to Great Don Budge; one of the greatest players of all time who was born 100 years ago. He was the hero of every tennis player who ever saw him play, he was the gentleman on and off the court, who redefined the terms of tennis by becoming the first player to win the four Slams within a calendar year!
Hereby, we remember recalling him some various moments of his life.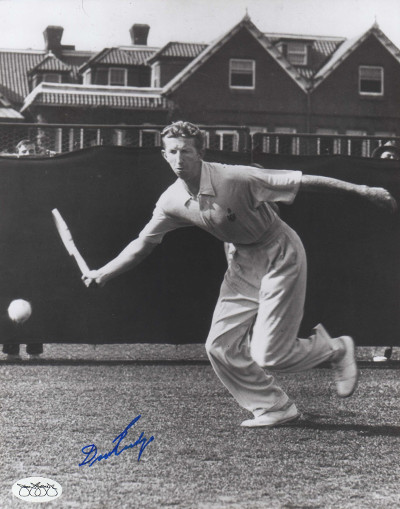 His full name was John Donald Budge.
His nickname was Don or Donnie.
Budge was born in Oakland, California on June 13, 1915.
He was a son of a Scottish immigrant family.
His father, John "Jack" Budge was a printer, a former soccer player from Scottland (he played several matches for Glasgow Rangers reserve team). His mother was Pearl Kincaid Budge.
Painfully thin, red-headed, with a prominent nose, protruding ears and eyes close together, Don Budge appeared more pasty-faced Glaswegian than Californian golden boy.
Budge played a variety of sports and he was always more interested in other sports than tennis as a child; he was keener on basketball and football. Although, Budge was an absolute natural, he didn't play tennis between the ages of 11 and 15 and never played tennis seriously until he was 14.
As he himself told a story, when his older brother, Lloyd, challenged him: "Don, you'd have a good chance to win the California State Boy's 15 and Under if you practice, but you're too darned lazy to practice, so forget it." Two weeks before the tournament, Budge started going up to Bushrod Park, a few blocks away from his house, and playing anyone who showed up with a racquet. That preparation bore fruit. In the first round, Budge beat the number one seed and went on to win the tournament.
In 1932, Don Budge won the Pacific Coast Junior crown and, in 1933, the California State Junior and Senior Championships - he was the first player for years to win both titles in the same season.
He attended the University of California (he was an excellent student), however left to play tennis for the U.S in 1935 when offered the chance to play in the US Davis Cup team heading for England.
A talented teenager, Gene Mako, became Donnie Budge's long-term doubles partner and friend. In 1938, when he won the US trophy beating his best friend in the final, Budge started to cry.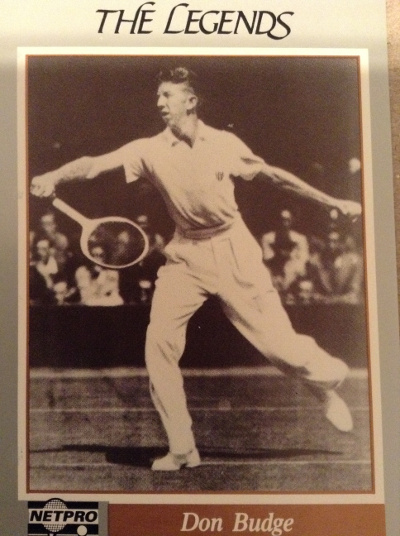 Budge was No.1 player of the world for five years, at first as an amateur and then as a professional. Between 1936 and 1938, he was ranked No.1 US singles tennis player.
As of today, he is the first player, male or female, and the only American player to win in a single year the four tournaments (Calendar Grand Slam).
He was the second player to win all four Grand Slams (in 1938) after Fred Perry. As of today, Budge is still the youngest man in the history who completed the career Grand Slam. He did it on June 11, 1938 winning the French Open, two days before his 23rd birthday.
Before Ken Rosewall, his backhand was regarded by most contemporaries as the best in tennis.
His backhand is considered the greatest shot in the history of the game.
During his career, he participated at 11 Grand Slam tournaments (1934-1938), he won 63 matches and lost only 5 ones with an incredible 92.6 winning percentage. He played only once in Australia and at Roland Garros, however, he won both Slams at his try!
He collected six Grand Slam titles in his career, and he won all of them in-a-row between French Open (1937) and US Open (1938); his 40 consecutive matches streak without loss at the Grand Slams is currently still a record!
The Californian's favorite surface was always hard-court.
Representing the United States four times (1935-38) for the Davis Cup, Budge won 25 out of 29 matches, and led his team to its first victory after 12 years (1937).
Often described as the greatest match of the (XXth) century, Budge played against von Cramm in the Davis Cup Challenge Round at Wimbledon (it was an inter-zone final) in 1937. Budge lost the first two sets and, having equalised, was 1-4, then 2-5 down in the fifth set, but he eventually triumphed 6-8, 5-7, 6-4, 6-2, 8-6. This triumph inspired thousands to adopt Donnie's aggressive style on tennis courts. After this epic match, Von Cramm said: "Don, this was absolutely the finest match I have ever played in my life. I'm very happy that I could have played it against you, whom I like so much."
After the Davis Cup victory, Walter Pate (the United States team captain) said: "No man, living or dead, could have beaten either man that day."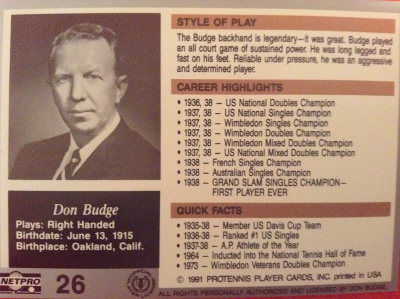 For his efforts in the Davis Cup, Budge was named Associated Press Male Athlete of the Year in 1937; he became the first tennis player ever to be voted the James E. Sullivan Award as America's top amateur athlete in the same year. In both awards, it was the first time when a tennis player won that trophy.
Don Budge dominated amateur tennis for the whole of 1938 : he beat John Bromwich in Australia, then Roderick Menzel in the French Open, Bunny Austin at Wimbledon without losing a set. Finally, he took the US title (defeated Gene Mako), for the loss of just one set, and won a never-before-achieved prize: its name is calendar Grand Slam.
In 1938, defending his Wimbledon crown, Donnie gave a short summary of his match:"I never played better, but it was just one of those things."
After his victories in '38, Don Budge vaulted to legendary status in the tennis Grand Slam history, and comparisons invariably arose between him and the century's greatest previous star, the big William Tilden II.
In 1938, his win/loss record at the Grand Slam was 26-0 (that time record, currently second best of all-time in a calendar year).
In 1939, he beat the two reigning kings of professional tennis, Ellsworth Vines (22 matches to 17) and Fred Perry (28 matches to 8).
In 1939, at the Wembley Pro tournament, Don Budge beat Hans Nusslein by 13–11, 2–6, 6–4.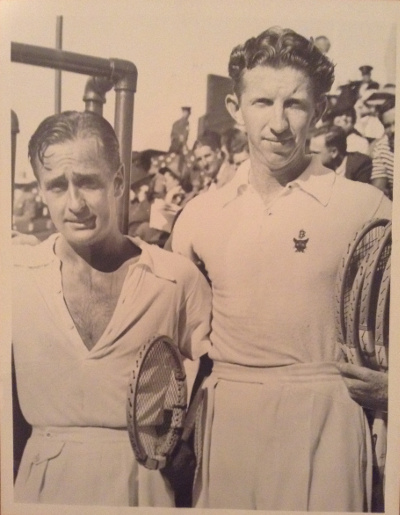 Don Budge and Rod Laver have usually been rated at the top of any all-time World Champions list, Budge having a slight edge. Don Budge is considered by many to be foremost among the all-time greats.
Paul Metzler, in his analysis of ten of the all-time greats, singles out Budge as the greatest player before World War II, and gives him second place overall behind Jack Kramer.
Jack Kramer said: "Budge was the best of all. He owned the most perfect set of mechanics and he was the most consistent.... Don was so good that when he toured with Sedgman, Gonzales, and Segura in 1954 at the age of thirty-eight, none of those guys could get to the net consistently off his serve — and Sedgman, as quick a man who ever played the game, was in his absolute prime then. Don could keep them pinned to the baseline with his backhand too."
Donnie Budge was probably the first player to use his backhand as an attacking stroke. His rolled backhand changed the tennis technique. Don Budge's style was innovatively aggressive, with good weight of shot all round. His backhand, even stronger than his forehand, made devastating use of a heavy racquet, and he developed a rolled shot that was consistently accurate and awesomely authoritative.
Budge had an aura of greatness. He had a way of making other players feel like they should be his ball boy.
Budge's physical size, strength and bulldog tenacity allowed him to outmuscle his opponents in tennis courts. For this, the best example it happened in final at Wimbledon of 1938 when in a mere 66 minutes he beat the legendary British Bunny Austin before his crowd. After this loss, the runner-up said: "Donald was unstoppable that afternoon, almost unplayable at times. He was a true great. It was an honour just to be on the same court."
William Tilden said: "I consider him, the finest player 365 days a year who ever lived."
Tony Trabert: "Don Budge stands tall in the record books. He had a lot of self-confidence as well as one of the game's all-time weapons in his backhand. His backhand was what we called a concluder, the sort of shot people will still be talking about a hundred years later."
Budge won 14 Grand Slam titles: six in singles, four in doubles (all with Gene Mako) and four in mixed doubles (3 with Alice Marble and 1 with Sarah Palfrey Fabyan).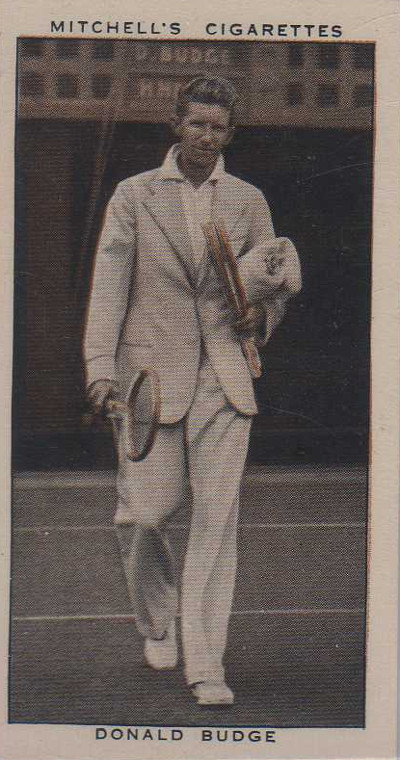 His book, Budge On Tennis, first pubished in 1939, was reprinted in the 1950s, and in 1969 came Don Budge: A Tennis Memoir.
The power of his strokes and his determination to win were combined with an unshakably sportsmanlike demeanour. He never questioned a call or raised a ginger eyebrow. Don Budge was a real gentleman on and off the court in his life.
Alan Transgrove, in The Story of the Davis Cup: "Don Budge's greatness was as much the result of his eagerness to learn and adjust his technique as to his natural talent…while umpiring a match between two world-class players, he observed that one of them hit the ball quite hard while his opponent hit very early while the ball was just inches off the ground. The unbeatable combination, Budge mused, would be a player that could hit the ball both hard and early."
Budge always denied having been paid under the table. Australian Tennis Association paid for him and Mako to sail to Australia, for instance, the journey took three weeks each way, otherwise, his Wimbledon prize was a Mappin & Webb voucher for £5.
In 1973, at the age of 58, Don Budge won the Veteran's Doubles title with Sedgman at Wimbledon.
Budge and his first wife had two sons, but the couple drifted apart in 1974. Don Budge married his second wife, Loriel.
Budge never smoked, nor did drink during his active years as a tennis player. Asked what made a champion, Donnie replied: "Discipline. You have to have discipline to go to bed early."
He adored music, he played the drums and he was a lifelong jazz fan, and had many friends in the world of jazz. In 1939, Tommy Dorsey promised Budge he could play drums with his band if he defeated Ellsworth Vines in his first match as a professional. Donnie did it, and that night, Dorsey sat him at the drums in the New Yorker Hotel ballroom, saying: "My band is your band."
He always loved the glamour and he was glamorous himself.
Don Budge was a friend of Pablo Casals, among others.
He could quote Einstein and Heinrich Heine on God, or G.B. Shaw on war and peace.
In the world of Grand Slam, Budge designed the modern game. He was one of the early practitioners of power tennis in his era. He had a classic all-round game founded on a powerful serve, strong and accurate ground strokes, and an effective volley. His graceful, overpowering backhand that he hit with a slight amount of topspin and that, combined with his quickness and his serve, made him the best player of his time.
In the Grand Slam history, there are only two Don-named players among the champions: Don Budge and Don McNeill who won at Roland Garros in 1939 and at US Open in 1940.
In the Grand Slam history, there are only five champions who were born on the day of 13: Harold Mahony (IRL), Jean Borotra (FRA), Sven Davidson (SWE), Goran Ivanisevic (CRO) and Don Budge (USA).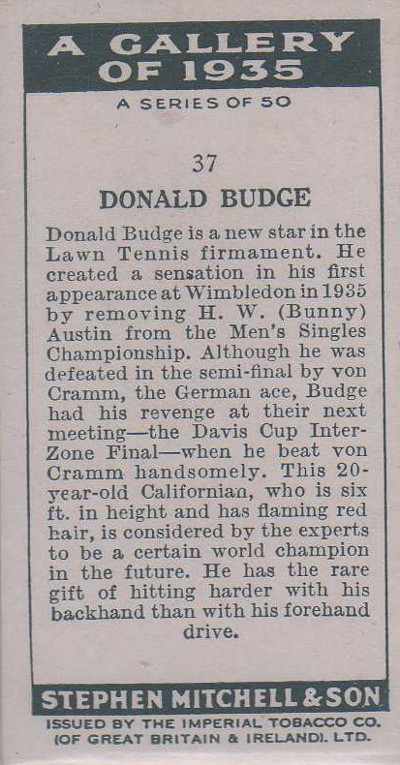 Don Budge's style of playing and his contemporaries enthused audiences across Europe, and the professional tour played to capacity crowds.
Don Budge marked out the great Helen Wills Moody as an important influence in his youth, and he would go to watch her play at every opportunity. He would also, eventually, have the chance to play doubles with his heroine during the mid-30s. He said of her: "I thought that if ever I became a champion, I'd want to behave just like her."
Don Budge had been very well mannered and would never throw temper tantrums.
He was born in the World War I, hit his peak and reached his prime-time just before the World War II escalated.
World War II interrupted his pro career, in 1942, Budge joined the United States Army Air Force to serve in World War II. During his wartime duty, he played some exhibitions for the troops. He served in the Pacific and in a military training he injured his shoulder and he could'not recover his previous unbeatable form.
After Don Budge's retirement, he led a quiet life with his wife, Loriel, and lent his support and advice to two tennis organizations: the Pike Tennis Association and the Don Budge Tennis Grand Slam Program, both of which were headquartered near his home in Dingman's Ferry, Pike County. He coached and conducted tennis clinics for children.
Donnie Budge owned a laundry in New York with Sidney Wood as well as a little bar in Oakland.
In 1964, Budge was inducted into the International Tennis Hall of Fame.
He was referenced in the 1977 Broadway musical, Annie, in the song 'I Think I'm Gonna Like It Here' ("Oh, and get that Don Budge fellow if he's available."). The reference is technically an anachronism, as the story is set in 1933, at which time Budge was an undergraduate at Berkeley and had not yet achieved prominence.
On December 14, 1999, Budge was injured in a car accident in northeastern Pennsylvania, when his car skidded off a wet road and struck trees in the Pocono Mountains. The rescue crews cut him from the wreckage, and immediately he was airlifted to St. Francis Hospital in Poughkeepsie, New York. He broke his leg, and he may have suffered seriously other internal damages. Budge was hospitalized in Poughkeepsie until January 8, 2000. From there, he was transferred to a nursing home in Scranton, Pennsylvania, he could never be fully recovered, and he died of a heart attack on January 26, 2000 at the age of 84. Don Budge was survived by his second wife, Loriel, and two sons, David of Los Angeles and Jeffrey of Boston.